Approvisionnement en produits pétroliers : les fournisseurs connus, des contrats alloués sans l'aval du Central Procurement Board
14 August 2019 - Défi Media Group
Deux fournisseurs ont été désignés pour l'approvisionnement du pays en produits pétroliers pour la période allant du 1er août 2019 au 31 janvier 2020.
Il s'agit de Vitol Bahrain E.C. pour les *«clean petroleum products» et de PetroChina International (Singapore) pour les «dirty petroleum products».
Les noms de ces deux fournisseurs choisis par la State Trading Corporation (STC) ont été révélés par le ministre du Commerce, Ashit Gungah, à l'Assemblée nationale ce mardi 13 août lors de la Private Notice Question du leader de l'opposition, Xavier-Luc Duval.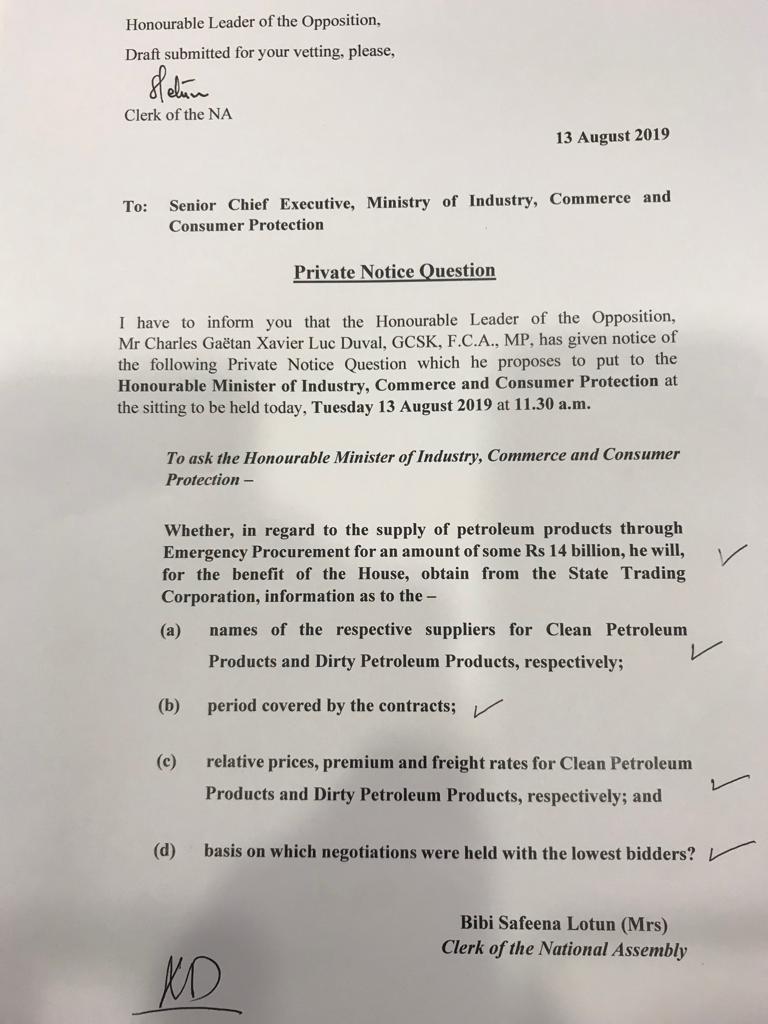 Répondant à la PNQ, Ashit Gungah a expliqué qu'une réunion s'est tenue avec des membres du Central Procurement Board (CPB), le 17 juin dernier, pour discuter du processus de l'Emergency Procurement. C'est à ce moment que le CPB a affirmé qu'il ne pourra pas participer à ces négociations tout en précisant qu'il pourra seulement assister la STC et la guider dans les procédures.
Le ministre du Commerce n'a pas néanmoins voulu dévoiler la tarification des «premiums» car selon lui une clause de confidentialité l'empêche de rendre publiques «ces informations sensibles». Pour Ashit Gungah, ce sont les fournisseurs qui ont choisi d'inclure cette clause de confidentialité à leur contrat.
Ceci est «inacceptable», a répliqué Xavier-Luc Duval. Il a dans la foulée demandé au ministre du Commerce si le Central Procurement Board avait été consulté sur ce sujet précis. «The answer is no» lui a répondu Ashit Gungah.
Xavier-Luc Duval a rappelé «qu'en 2015, lors d'une conférence de presse, Ashit Gungah avait déclaré qu'un contrat qui n'est pas passé par le CPB était illégal».
Le leader de l'opposition a ajouté que si les contrats avaient été alloués à travers le CPB, tous les chiffres devaient être publics.
«Un nouvel appel d'offres sera lancé», dit Ashit Gungah
Le ministre du Commerce a réagi en précisant que «we have gone through all the procedures advised to us». Il a aussi affirmé que ce n'est qu'après le jugement de la Cour suprême dans l'affaire Betamax le 31 mai dernier qu'ils ont pris connaissance «qu'il fallait passer par la Public Procurement Act».
Ashit Gungah a également déclaré que les fournisseurs ont accepté de réduire leur facture , «ce qui a permis d'économiser Rs 309 millions pour les prochains 6 mois».
Le contrat de Vitol Bahrain E.C. et PetroChina International (Singapore) prenant fin en janvier 2020, «un nouvel appel d'offres sera lancé», a dit Ashit Gungah.
Pour rappel, le contrat de trois ans entre Maurice et Mangalore Refinery and Petrochemicals Limited pour l'approvisionnement en produits pétroliers est arrivé à terme le 31 juillet dernier.
*L'essence et le gasoil sont des exemples de produits pétroliers propres tandis que le mazout est considéré comme un produit pétrolier sale.